Safety Starts With You: Child Passenger Safety Week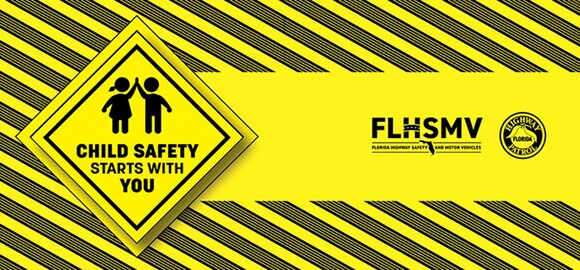 The Florida Department of Highway Safety and Motor Vehicles (FLHSMV) is recognizing September 18-24, as Child Passenger Safety Week. During this time, FLHSMV is reminding parent drivers that children should always be wearing a seat belt or in a proper child safety restraint. If you are a parent driver or motorist who travels with children, read the following information on Florida safety belt laws and other safety tips.
Safety Belts
Florida law requires the use of seat belts by drivers, all front seat passengers, and all children under 18.
Florida's safety belt law is a primary enforcement law, meaning that an officer can stop a vehicle and issue a citation for observing a violation.
Child Restraints – Car Seats and Booster Seats
Florida law requires children aged 5 and under to be secured properly in a crash-tested, federally approved child restraint device.
Children aged 0 through 3 must be in a separate carrier or a vehicle manufacturer's integrated child seat.
Children aged 4 through 5 must be in a separate carrier, integrated child seat, or booster seat.
Children should be in the rear seats until at least age 12 since deployed front seat airbags can be dangerous to children.
Child seats should always fit your child, fit your car, and be used properly every time you drive.
Read the car seat's instruction manual and the portion of your vehicle's owner manual when you install a car seat.
In 2018, there were 130,055 children aged 0 to 17 involved in a crash in Florida, resulting in 1,438 serious bodily injuries and 155 fatalities. One of the most important things you can do to ensure your children are protected in the event of a crash is properly restraining them.
If you need assistance with installing a car seat or aren't sure if you did it correctly, contact your local police department or fire station and make an appointment to have it installed or inspected. Never buy a used or defective car seat.
Remember, safety starts with you. The best way to protect all drivers and passengers is to follow Florida seat belt laws and safety guidelines.