Planning Essential to Knowing I-4 Express Entry and Exit Points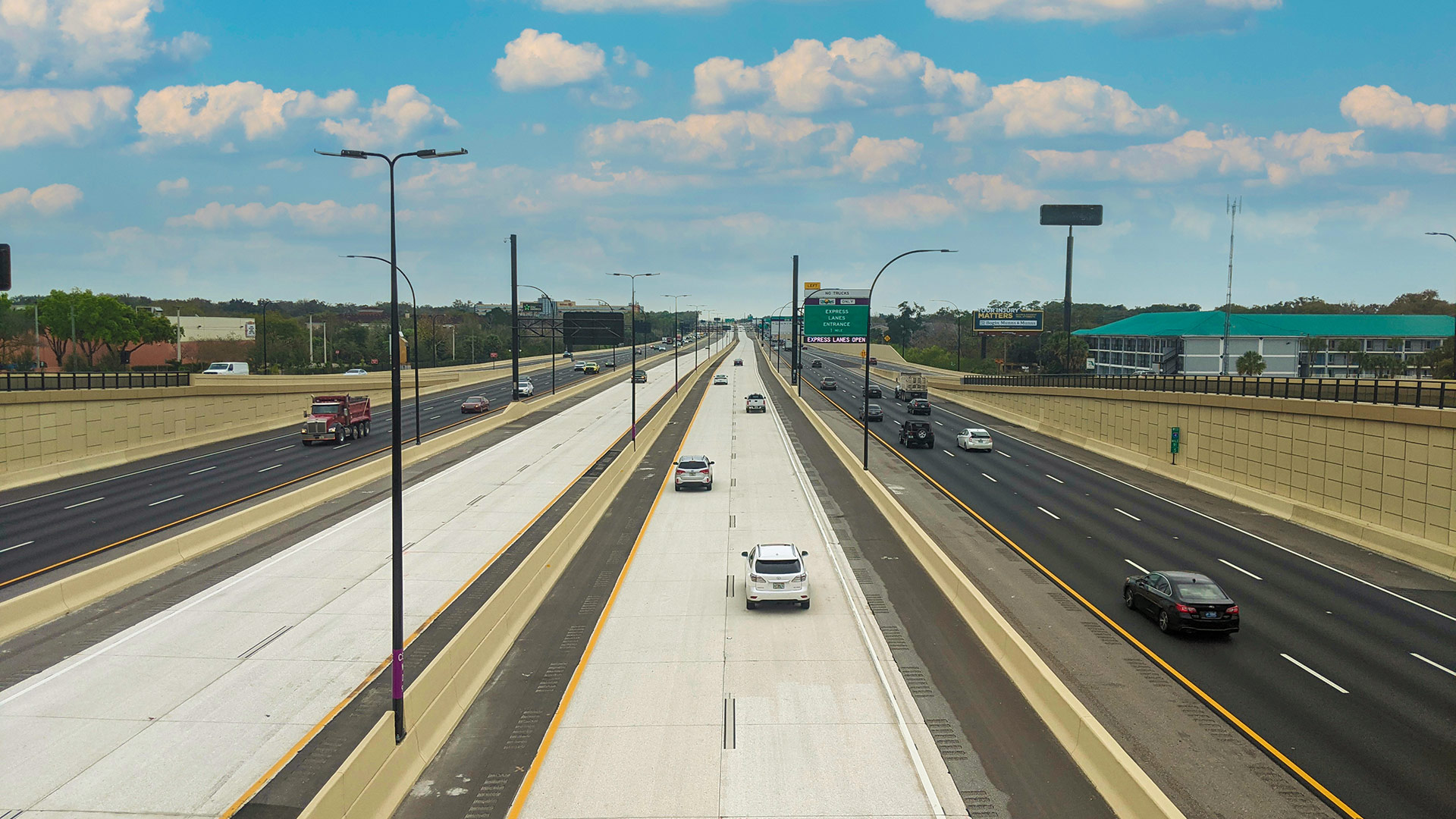 When it opened on February 26, I-4 Express brought the first managed lanes to Central Florida.
The 21 miles of I-4 Express extend from just west of Kirkman Road (State Road 435) in Orange County to just east of S.R. 434 in Seminole County. The managed lanes, two in each direction, are separated from the rest of the traffic on Interstate 4 (I-4) by a concrete barrier wall with limited access points. That helps make for a smooth journey for those who need a reliable trip to a local spot and travelers who are passing through Central Florida on their way to other destinations.
Motorists have two ways to enter and exit I-4 Express – slip ramps and direct connect ramps. View or download this brochure to see a map.
Slip ramps allow drivers to enter and exit I-4 Express to and from the nontolled or general use lanes. Most slip ramps do not exit directly to or near an interchange. So, depending on your destination, you may need to exit I-4 Express before you get to your interchange. In some instances, you may need to continue past your destination and double back.
Direct connect ramps, however, will take drivers directly from I-4 Express to an interchange without having to exit onto the general use lanes first. Direct connect ramps are located at:
Central Parkway
Ivanhoe Boulevard
Interstate 4 to State Road 408
Anderson Street
South Street
Grand National Drive
Florida's Turnpike
Entering the I-4 Express lanes is fast and easy. If you are driving with an approved toll transponder, look for the large sign showing the entry point. Once you pass the electronic sign, move to the left lane and look for the break in the barrier wall that separates the general use lanes from the I-4 Express lanes. Then simply merge onto I-4 Express and be prepared to drive at or near the speed limit.
Similarly, signs will advise drivers about the upcoming exit points. Once you see a sign for where you want to exit, move into the right lane and look for a break in the barrier wall on the right to merge back into the general use lanes.
Please be aware that navigational systems may not yet be up to date with the recent changes. Motorists can use the Trip Planner before getting behind the wheel to see where to enter and exit I-4 Express based on their destination. Signage along the corridor also identifies where entry and exit points are located with plenty of notice for drivers to make decisions as they drive.
The Florida Department of Transportation (FDOT) reminds all road users to be mindful of the speed limit and focus attention on driving.
During emergencies, whether in the general use lanes or in I-4 Express, use the shoulders and wait for first responders. Road Rangers, who can be reached by dialing *347 (*FHP), will also be available to assist first responders as well as make minor mechanical repairs.
Before heading out, drivers can visit FL511.com or use the Florida 511 Mobile App for important I-4 traffic information and incident alerts. Once on the road, have a passenger check to avoid using a phone while behind the wheel.