FDOT Offers Free Tolls on I-4 Express this Sunday, February 26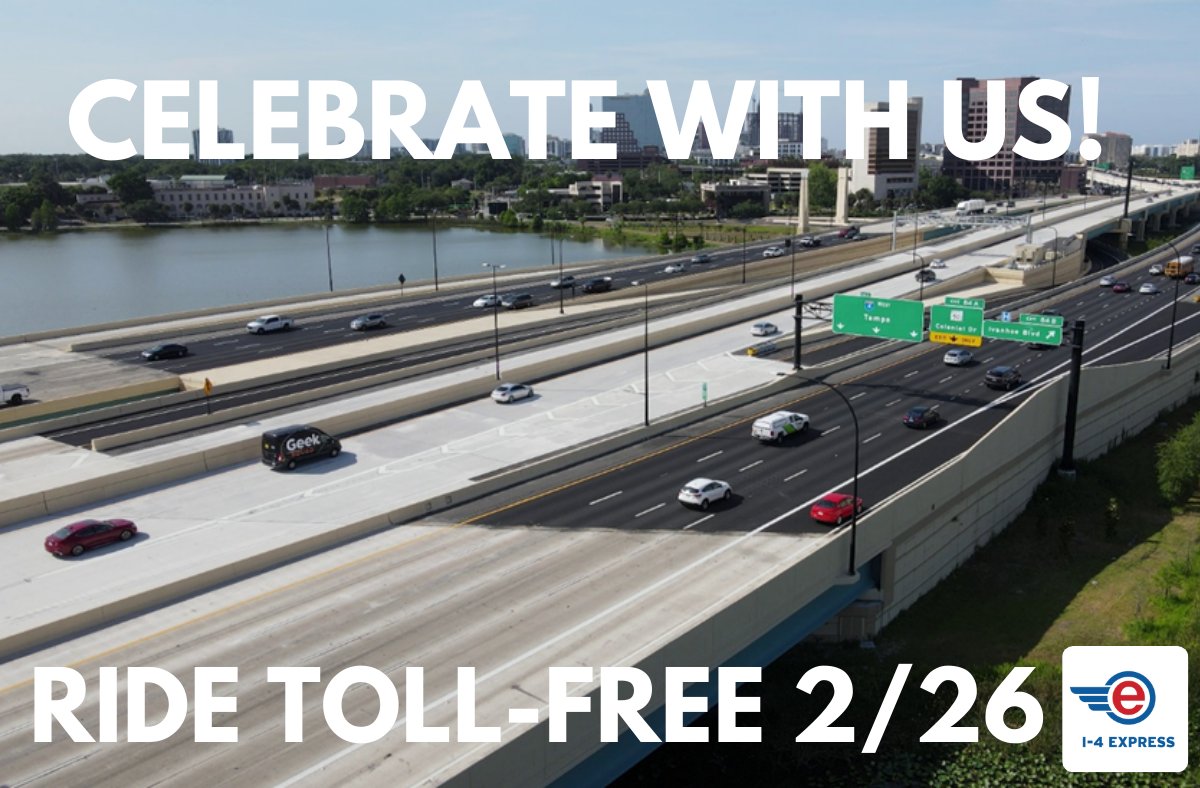 The Florida Department of Transportation (FDOT) is celebrating the one-year anniversary of I-4 Express by offering a day of free tolls this Sunday, February 26.
I-4 Express, the managed lanes in the center of Interstate 4 that span 21 miles from just west of Kirkman Road (State Road (S.R.) 435) in Orange County to just east of S.R. 434 in Seminole County, has been a great success – with 12.7 million trips in its first year. There are two express lanes in each direction of I-4.
"The express lanes are a popular choice for our residents and visitors, increasing safety and mobility, easing congestion, and providing a reliable and easy-to-use travel option to improve connectivity through Central Florida," said FDOT District Five Secretary John E. Tyler, P.E. "With I-4 Express, you can travel with confidence, knowing you will be able to get where you need to go."
FDOT encourages new and returning motorists to "Express Yourself" by trying I-4 Express with no tolls this Sunday, February 26. It's the perfect time for motorists who haven't had an opportunity to use the express lanes to try them. No transponder is needed during the toll-free day on Feb. 26.
Central Florida residents and visitors who chose to use I-4 Express are seeing many benefits, including more reliable travel times. Congestion has also improved in the general use lanes, with the average motorist saving more than 3 minutes on their trip compared to prior to the opening of the express lanes. Reliability, or how consistently the express lanes keep traffic moving, is a major goal of I-4 Express.
More than 29,000 travelers use I-4 Express daily, and 60 new motorists choose the express lanes each week. The use of I-4 Express has grown every month since the lanes opened on February 26, 2022.
I-4 Express is separated from the rest of traffic by a concrete barrier wall with limited access points to support longer trips. The express lanes are open to two-axle vehicles and buses. Since its opening, I-4 Express has operated at fixed rate of 50 cents per trip, with a trip on all 21 miles of I-4 Express costing $3.50 eastbound and $3 westbound. A Florida-based toll transponder such as SunPass is required.
I-4 Express is eligible for Florida's new Toll Relief Program, which provides credits to frequent commuters using toll roads across the state. The program automatically gives Floridians with 35 or more toll transactions per month a 50% credit to their account. This program, proposed by Governor DeSantis and enacted by the Florida Legislature, will run through Dec. 31, 2023.
Media inquiries should be directed to the FDOT District Five Communications Office at FDOT-D5COMM@dot.state.fl.us or by phone at 386-956-9552.